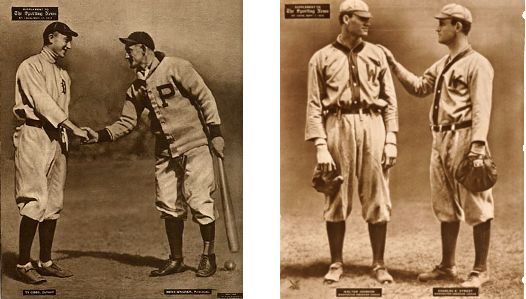 1909-13 M101-2 Sporting News Baseball Supplements
At Dean's Cards, we buy hundreds of vintage baseball card collections through the mail each and every year. These collections range from cards acquired during childhood (that have most likely been sitting in a closet or attic for years), to collectors selling their baseball card sets and cards that have taken years to acquire through shows, card shops, or a website like
DeansCards.com
. This is another story of a recent collection we were able to purchase.
Typically, as we have stated before, collections mailed to us (and we get a lot! Hundreds a year.), are usually in the form of those little cardboard rectangles that
Goudey
,
Topps, Fleer, Bowman
and other gum companies made so popular. W
hen you get into the late 1940's, to the beginning of Topps in the early 50's, and to the present;
baseball cards
(mostly around the 2 1/2" x 3 1/2" variety) are the standard.
That's not the case for the collection we are featuring in this post. They're not really cards, although they feature baseball players. These poster-sized supplements are more like something that you'd hang on your wall rather than put in your bike spokes.
So what are these things anyways?
The 1909 M101-2 Supplements were issued with the Sporting News
sporadically throughout 1909-1913.
The 1909-13 M101-2 Sporting News Baseball Supplements set includes 100 poster-sized supplements measuring 7 1/2" x 10". The front of the Sporting News supplements include a sepia photo of the players with date and player name. Backs of the M101-2 supplements are blank.
The supplements were issued with Sporting News sporadically throughout 1909 to 1913. I say sporadic, because they weren't included with every Sporting News magazine, and there are large gaps in time where there was no supplement included at all.
The most interesting thing about this set might be the photography used to depict the baseball players. You rarely will see better photos taken during this time period of guys like Ty Cobb, Honus Wagner, or Walter Johnson.
What makes it even better is that there are several supplements which have multiple players featured on the front. These player combinations range from players talking to shaking hands. The most valuable of these multi-player photos has to be the
March 17, 1910 Ty Cobb / Honus Wagner.
The recent M101-2 Sporting News Supplements Find
This Sporting News Supplements set is loaded with photos of Hall-of-Famers.
Recently we had a rather large collection of these supplements sent to us through the mail that we were able to purchase. Most of these posters were in low to mid-grade condition, but they all had great eye appeal. These things are just plain neat, and the photography is beautiful. If you want something that captures a moment in baseball history to place around the man cave, these are close to perfect.
Included in the collection were supplements depicting Hall-of-Famers like: Cy Young, Ty Cobb, Honus Wagner, Eddie Plank, Walter Johnson and a famous non-HOFer - Shoeless Joe Jackson.
So head over to DeansCards.com and check these unique items out!
By Dean Hanley
Dean Hanley, founder and owner of DeansCards.com, is considered one of the foremost experts on the subject of vintage baseball cards, other sports and non-sports cards and has a regular column in the Sports Collectors Digest and publishes articles on his blog.

Dean has also written two books on vintage sports cards: The Bubble Gum Card War: The Great Bowman & Topps Sets from 1948 to 1955 and Before There Was Bubble Gum: Our Favorite Pre-World War I Baseball Cards. Both are available in eBook and paperback form.