The 1933 Goudey Sport Kings set is a beautiful offering filled with superstars from the 1920's and 1930's, hailing from many different sports and walks of life. This set is renowned for it's vibrant color fronts and just clean and crisp overall look. The set includes 48 cards that measure 2 3/8" x 2 7/8". The card fronts feature color portraits with the players name listed at the bottom. The card backs are in printed in green and have interesting biographies on each "Sport King."
# 2 Babe Ruth - 1933 Goudey Sport Kings
Football
players
Red Grange
,
Jim Thorpe
, and
Knute Rockne
are also featured cards. The black silhouettes that illustrate the bottom border of the football cards are cool. They show scenes such as that of a player diving for a touchdown, or a big pileup of tacklers with the runner doing his best to evade the scrum.
# 2 Ruth (Back) - 1933 Goudey Sport Kings
The 1933 Goudey Sport Kings set includes some of the first professional
basketball cards
ever. This was also the only multi-sport offering sold by the Goudey Gum Company.
The rest of the Pre-War vintage card set consists of ice skaters,
hockey
players, aviators, swimmers, and even golfers (notably Bobby Jones and Gene Sarazen among others!).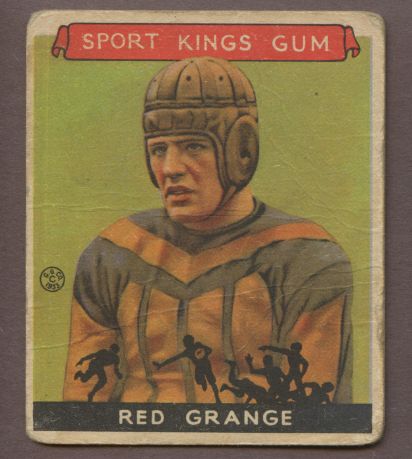 # 4 Red Grange - 1933 Goudey Sport Kings