Are you ready for some football?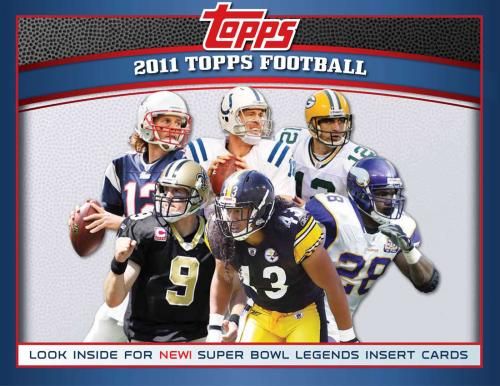 When we
previously posted
on the upcoming release of
2011 Topps Football
there was a level of uncertainty as to whether we would even have an NFL season this year. A lockout of 18 weeks ended on July 25th, giving us a glimmer of hope that we will shortly see the hard hits and majestic spirals being tossed towards the endzone.
Even through all of this uncertainty, Topps has still persevered with the newest offering of their football staple. And they've had a tough road to go down, since there have recently been unprecedented free agent signings and trades made during this lockout-shortened off-season.
At
DeansCards.com
you can pick up all your
2011 Topps Football
singles to complete that
set
or
team set
. And hey, if you're a little behind, check out what we have in stock for
2010 Topps Football Cards
. Also, Dean's Cards has an extensive
vintage football card offering
. You can pick up tons of cards from your favorite player or team.
Here is the checklist for 2011 Topps Football.
# 1 A Aaron Rodgers - 2011 Topps Football
# 1 B Aaron Rodgers TB SP (Wearing Throwback Jersey) - 2011 Topps Football
# 2 St. Louis Rams Team - 2011 Topps Football
# 3 Ben Watson - 2011 Topps Football
# 4 Reggie Bush - 2011 Topps Football
# 5 Lance Briggs - 2011 Topps Football
# 6 A Kyle Rudolph RC {Catching Ball Over Head) - 2011 Topps Football
# 6 B Kyle Rudolph SP (One-Handed Catch) - 2011 Topps Football
# 7 Vincent Brown RC - 2011 Topps Football
# 8 Blair White - 2011 Topps Football
# 9 Antonio Brown - 2011 Topps Football
# 10 Larry Fitzgerald - 2011 Topps Football
# 11 A Leonard Hankerson RC (No Football in Photo) - 2011 Topps Football
# 11 B Leonard Hankerson SP (One-Handed Catch) - 2011 Topps Football
# 12 Demaryius Thomas - 2011 Topps Football
# 13 Brian Cushing - 2011 Topps Football
# 14 Tyrod Taylor RC - 2011 Topps Football
# 15 Brandon Harris RC - 2011 Topps Football
# 16 Colt McCoy - 2011 Topps Football
# 17 Denver Broncos Team - 2011 Topps Football
# 18 Houston Texans Team - 2011 Topps Football
# 19 A Titus Young RC (Football Above Head) - 2011 Topps Football
# 19 B Titus Young SP (Football at Chest) - 2011 Topps Football
# 20 Eli Manning - 2011 Topps Football
# 21 Jermaine Gresham - 2011 Topps Football
# 22 Austin Collie - 2011 Topps Football
# 23 Brandon Meriweather - 2011 Topps Football
# 24 Jake Long - 2011 Topps Football
# 25 Steve Smith - 2011 Topps Football
# 26 Robert Mathis - 2011 Topps Football
# 27 Phil Taylor RC - 2011 Topps Football
# 28 New York Jets Team - 2011 Topps Football
# 29 Brooks Reed RC - 2011 Topps Football
# 30 Maurice Jones-Drew - 2011 Topps Football
# 31 Knowshon Moreno - 2011 Topps Football
# 32 Brent Celek - 2011 Topps Football
# 33 Jonathan Stewart - 2011 Topps Football
# 34 David Harris - 2011 Topps Football
# 35 Tampa Bay Buccaneers Team - 2011 Topps Football
# 36 Devin Hester - 2011 Topps Football
# 37 Seyi Ajirotutu - 2011 Topps Football
# 38 Mike Tolbert - 2011 Topps Football
# 39 DeAngelo Williams - 2011 Topps Football
# 40 Greg Jennings - 2011 Topps Football
# 41 Akeem Ayers RC - 2011 Topps Football
# 42 Philadelphia Eagles Team - 2011 Topps Football
# 43 Danny Watkins RC - 2011 Topps Football
# 44 Davone Bess - 2011 Topps Football
# 45 Elvis Dumervil - 2011 Topps Football
# 46 Dion Lewis RC - 2011 Topps Football
# 47 Derrick Johnson - 2011 Topps Football
# 48 Vonta Leach - 2011 Topps Football
# 49 DeMeco Ryans - 2011 Topps Football
# 50 Josh Freeman - 2011 Topps Football
# 51 Rob Housler RC - 2011 Topps Football
# 52 Oakland Raiders Team - 2011 Topps Football
# 53 Baltimore Ravens Team - 2011 Topps Football
# 54 Sam Bradford ROY - 2011 Topps Football
# 55 Da'Rel Scott RC - 2011 Topps Football
# 56 Mike Thomas - 2011 Topps Football
# 57 BenJarvus Green-Ellis - 2011 Topps Football
# 58 Prince Amukamara RC - 2011 Topps Football
# 59 Cameron Wake - 2011 Topps Football
# 60 A Chris Johnson (Blue Jersey) - 2011 Topps Football
# 60 B Chris Johnson SP (White Jersey) - 2011 Topps Football
# 61 Anthony Armstrong - 2011 Topps Football
# 62 Terrell Suggs - 2011 Topps Football
# 63 Vernon Davis - 2011 Topps Football
# 64 Dwayne Bowe - 2011 Topps Football
# 65 Billy Cundiff - 2011 Topps Football
# 66 Jay Ratliff - 2011 Topps Football
# 67 David Gettis - 2011 Topps Football
# 68 Beanie Wells - 2011 Topps Football
# 69 Tyron Smith RC - 2011 Topps Football
# 70 Andy Dalton RC - 2011 Topps Football
# 71 Alex Smith QB - 2011 Topps Football
# 72 Jacquizz Rodgers RC - 2011 Topps Football
# 73 Aaron Williams RC - 2011 Topps Football
# 74 T.J. Yates RC - 2011 Topps Football
# 75 Percy Harvin - 2011 Topps Football
# 76 Donald Brown - 2011 Topps Football
# 77 Mike Goodson - 2011 Topps Football
# 78 Roy Williams WR - 2011 Topps Football
# 79 Keith Brooking - 2011 Topps Football
# 80 Calvin Johnson - 2011 Topps Football
# 81 Steve Smith USC - 2011 Topps Football
# 82 Anthony Allen RC - 2011 Topps Football
# 83 Kevin Boss - 2011 Topps Football
# 84 Green Bay Packers Team - 2011 Topps Football
# 85
Troy Polamalu
- 2011 Topps Football
# 86 Matthew Stafford - 2011 Topps Football
# 87 Asante Samuel - 2011 Topps Football
# 88 David Garrard - 2011 Topps Football
# 89 Chris Long - 2011 Topps Football
# 90 Ben Roethlisberger - 2011 Topps Football
# 91 Adrian Wilson - 2011 Topps Football
# 92 Dexter McCluster - 2011 Topps Football
# 93 Tramon Williams - 2011 Topps Football
# 94 Pierre Thomas - 2011 Topps Football
# 95 Jeremy Kerley RC - 2011 Topps Football
# 96 Lofa Tatupu - 2011 Topps Football
# 97 Brandon LaFell - 2011 Topps Football
# 98 Zach Miller - 2011 Topps Football
# 99 Ryan Torain - 2011 Topps Football
# 100 A
Drew Brees
(White Jersey) - 2011 Topps Football
# 100 B
Drew Brees
SP (Black Jersey) - 2011 Topps Football
# 101 Tandon Doss RC - 2011 Topps Football
# 102 Chris Clemons - 2011 Topps Football
# 103 Karlos Dansby - 2011 Topps Football
# 104 Ndamukong Suh ROY - 2011 Topps Football
# 105 Brandon Pettigrew - 2011 Topps Football
# 106 Lee Evans - 2011 Topps Football
# 107 Marvin Austin RC - 2011 Topps Football
# 108 Delone Carter RC - 2011 Topps Football
# 109 Jermichael Finley - 2011 Topps Football
# 110 Sam Bradford - 2011 Topps Football
# 111 Michael Crabtree - 2011 Topps Football
# 112 Nathan Enderle RC - 2011 Topps Football
# 113 James Starks - 2011 Topps Football
# 114 Darren Sproles - 2011 Topps Football
# 115 Malcom Floyd - 2011 Topps Football
# 116 Fred Jackson - 2011 Topps Football
# 117 Tennessee Titans Team - 2011 Topps Football
# 118 Felix Jones - 2011 Topps Football
# 119 Atlanta Falcons Team - 2011 Topps Football
# 120 Frank Gore - 2011 Topps Football
# 121 Bernard Scott - 2011 Topps Football
# 122 Cincinnati Bengals Team - 2011 Topps Football
# 123 Brian Dawkins - 2011 Topps Football
# 124 Nnamdi Asomugha - 2011 Topps Football
# 125 Buffalo Bills Team - 2011 Topps Football
# 126 DeMarco Murray RC - 2011 Topps Football
# 127 Ryan Whalen RC - 2011 Topps Football
# 128 T.J. Ward - 2011 Topps Football
# 129 Lawrence Timmons - 2011 Topps Football
# 130 Dez Bryant - 2011 Topps Football
# 131 Hines Ward - 2011 Topps Football
# 132 Julius Thomas RC - 2011 Topps Football
# 133 Ryan Fitzpatrick - 2011 Topps Football
# 134 Ricky Stanzi RC - 2011 Topps Football
# 135 Brian Hartline - 2011 Topps Football
# 136 Brandon Marshall - 2011 Topps Football
# 137 Seattle Seahawks Team - 2011 Topps Football
# 138 James Harrison - 2011 Topps Football
# 139 James Jones - 2011 Topps Football
# 140 Jay Cutler - 2011 Topps Football
# 141 LaMarr Woodley - 2011 Topps Football
# 142 Brad Smith - 2011 Topps Football
# 143 Bilal Powell RC - 2011 Topps Football
# 144 Danny Amendola - 2011 Topps Football
# 145 Jason Campbell - 2011 Topps Football
# 146 Dontay Moch RC - 2011 Topps Football
# 147 Michael Bush - 2011 Topps Football
# 148 Nate Washington - 2011 Topps Football
# 149 Randall Cobb RC - 2011 Topps Football
# 150 Mark Sanchez - 2011 Topps Football
# 151 A.J. Green RC - 2011 Topps Football
# 152 Julius Peppers - 2011 Topps Football
# 153 Curtis Lofton - 2011 Topps Football
# 154 Vince Wilfork - 2011 Topps Football
# 155 Kendall Hunter RC - 2011 Topps Football
# 156 New Orleans Saints Team - 2011 Topps Football
# 157 Rashad Jennings - 2011 Topps Football
# 158 Aaron Hernandez - 2011 Topps Football
# 159 Donovan McNabb - 2011 Topps Football
# 160 Blaine Gabbert RC - 2011 Topps Football
# 161 Ronnie Brown - 2011 Topps Football
# 162 Mario Manningham - 2011 Topps Football
# 163 Dallas Cowboys Team - 2011 Topps Football
# 164 Ray Rice - 2011 Topps Football
# 165 Edmond Gates RC - 2011 Topps Football
# 166 Vince Young - 2011 Topps Football
# 167 Champ Bailey - 2011 Topps Football
# 168 Ovie Mughelli - 2011 Topps Football
# 169 Mike Pouncey RC - 2011 Topps Football
# 170 Jason Witten - 2011 Topps Football
# 171 Brian Urlacher - 2011 Topps Football
# 172 Derek Sherrod RC - 2011 Topps Football
# 173 Jacoby Jones - 2011 Topps Football
# 174 Thomas Jones - 2011 Topps Football
# 175 Todd Heap - 2011 Topps Football
# 176 Osi Umenyiora - 2011 Topps Football
# 177 Ahmad Bradshaw - 2011 Topps Football
# 178 Aldon Smith RC - 2011 Topps Football
# 179 Kevin Kolb - 2011 Topps Football
# 180 Peyton Hillis - 2011 Topps Football
# 181 Corey Liuget RC - 2011 Topps Football
# 182 Earl Thomas - 2011 Topps Football
# 183
Ray Lewis
- 2011 Topps Football
# 184 Wes Welker - 2011 Topps Football
# 185 Stephen Tulloch - 2011 Topps Football
# 186 Jerricho Cotchery - 2011 Topps Football
# 187 2011 Rookie Premiere - 2011 Topps Football
# 188 Kris Durham RC - 2011 Topps Football
# 189 Jahvid Best - 2011 Topps Football
# 190 Miles Austin - 2011 Topps Football
# 191 Dwight Freeney - 2011 Topps Football
# 192 Emmanuel Sanders - 2011 Topps Football
# 193 Alex Green RC - 2011 Topps Football
# 194 Deion Branch - 2011 Topps Football
# 195 Jahri Evans - 2011 Topps Football
# 196 Luke Stocker RC - 2011 Topps Football
# 197 Steve Breaston - 2011 Topps Football
# 198 Jimmy Graham - 2011 Topps Football
# 199 Carolina Panthers Team - 2011 Topps Football
# 200 A Cam Newton RC (Stands in Background) - 2011 Topps Football
# 200 B Cam Newton SP (Field in Background) - 2011 Topps Football
# 201 Brandon Gibson - 2011 Topps Football
# 202 Paul Posluszny - 2011 Topps Football
# 203 A.J. Hawk - 2011 Topps Football
# 204
Tom Brady
RB - 2011 Topps Football
# 205 John Kuhn - 2011 Topps Football
# 206 Carson Palmer - 2011 Topps Football
# 207 Kenny Britt - 2011 Topps Football
# 208 Logan Mankins - 2011 Topps Football
# 209 Visanthe Shiancoe - 2011 Topps Football
# 210 Tim Tebow - 2011 Topps Football
# 211 Chris Ivory - 2011 Topps Football
# 212 Nate Solder RC - 2011 Topps Football
# 213 Gabe Carimi RC - 2011 Topps Football
# 214 Curtis Brown RC - 2011 Topps Football
# 215 Denarius Moore RC - 2011 Topps Football
# 216 Pittsburgh Steelers Team - 2011 Topps Football
# 217 Anquan Boldin RB - 2011 Topps Football
# 218 DeAngelo Hall - 2011 Topps Football
# 219 Nick Fairley RC - 2011 Topps Football
# 220 Michael Turner - 2011 Topps Football
# 221 Jacob Tamme - 2011 Topps Football
# 222 Darren McFadden - 2011 Topps Football
# 223 Haloti Ngata - 2011 Topps Football
# 224 Brandon Jackson - 2011 Topps Football
# 225 B.J. Raji - 2011 Topps Football
# 226 Miami Dolphins Team - 2011 Topps Football
# 227 Anquan Boldin - 2011 Topps Football
# 228 Ryan Kerrigan RC - 2011 Topps Football
# 229 Quinton Carter RC - 2011 Topps Football
# 230 Rashard Mendenhall - 2011 Topps Football
# 231 Danny Woodhead - 2011 Topps Football
# 232 San Diego Chargers Team - 2011 Topps Football
# 233 Chris Snee - 2011 Topps Football
# 234 Devin McCourty - 2011 Topps Football
# 235 A Jerrel Jernigan RC (Catching Pose) - 2011 Topps Football
# 235 B Jerrel Jernigan SP (Leaping Pose) - 2011 Topps Football
# 236 Mohamed Massaquoi - 2011 Topps Football
# 237 Trent Cole - 2011 Topps Football
# 238 A Christian Ponder RC (Running Pose) - 2011 Topps Football
# 238 B Christian Ponder SP (Passing Pose) - 2011 Topps Football
# 239 Brandon Tate - 2011 Topps Football
# 240
Tom Brady
MVP - 2011 Topps Football
# 241 Joe Flacco - 2011 Topps Football
# 242 A Jon Baldwin RC (No Football in Photo) - 2011 Topps Football
# 242 B Jon Baldwin SP (One-Handed Catch) - 2011 Topps Football
# 243 Jerod Mayo - 2011 Topps Football
# 244 Arrelious Benn - 2011 Topps Football
# 245 Marcedes Lewis - 2011 Topps Football
# 246 Donald Driver - 2011 Topps Football
# 247 Packers SB Champs - 2011 Topps Football
# 248 Joseph Addai - 2011 Topps Football
# 249 Roy Helu RC - 2011 Topps Football
# 250 Andre Johnson - 2011 Topps Football
# 251 Justin Houston RC - 2011 Topps Football
# 252 Takeo Spikes - 2011 Topps Football
# 253 Tony Moeaki - 2011 Topps Football
# 254 Chicago Bears Team - 2011 Topps Football
# 255 Chad Henne - 2011 Topps Football
# 256 Marcell Dareus RC - 2011 Topps Football
# 257 Eric Berry - 2011 Topps Football
# 258 Randy Moss - 2011 Topps Football
# 259 Lee Smith RC - 2011 Topps Football
# 260 Roddy White - 2011 Topps Football
# 261 Charles Johnson - 2011 Topps Football
# 262 Justin Smith - 2011 Topps Football
# 263 Josh Cribbs - 2011 Topps Football
# 264 Shane Lechler - 2011 Topps Football
# 265 Brandon Lloyd - 2011 Topps Football
# 266 Dustin Keller - 2011 Topps Football
# 267 Patrick Peterson RC - 2011 Topps Football
# 268 DeSean Jackson - 2011 Topps Football
# 269 John Abraham - 2011 Topps Football
# 270 Philip Rivers - 2011 Topps Football
# 271 Robert Quinn RC - 2011 Topps Football
# 272 Terrell Owens - 2011 Topps Football
# 273 LeGarrette Blount - 2011 Topps Football
# 274 A Torrey Smith RC (No Football in Photo) - 2011 Topps Football
# 274 B Torrey Smith SP (One-Handed Catch) - 2011 Topps Football
# 275 James Carpenter RC - 2011 Topps Football
# 276 Kris Dielman - 2011 Topps Football
# 277 Muhammad Wilkerson RC - 2011 Topps Football
# 278 Ben Obomanu - 2011 Topps Football
# 279 Nick Collins - 2011 Topps Football
# 280 Antonio Gates - 2011 Topps Football
# 281 Tim Hightower - 2011 Topps Football
# 282 Matt Schaub - 2011 Topps Football
# 283 Mario Williams - 2011 Topps Football
# 284 Antrel Rolle - 2011 Topps Football
# 285 Joe Thomas - 2011 Topps Football
# 286 Sam Bradford RB - 2011 Topps Football
# 287 Santana Moss - 2011 Topps Football
# 288 San Francisco 49ers Team - 2011 Topps Football
# 289 Minnesota Vikings Team - 2011 Topps Football
# 290 LaDainian Tomlinson - 2011 Topps Football
# 291 Greg Olsen - 2011 Topps Football
# 292 Niles Paul RC - 2011 Topps Football
# 293 Tamba Hali - 2011 Topps Football
# 294 Jon Beason - 2011 Topps Football
# 295 Shaun Hill - 2011 Topps Football
# 296 LaRon Landry - 2011 Topps Football
# 297 Jordan Shipley - 2011 Topps Football
# 298 Ricky Williams - 2011 Topps Football
# 299 Cameron Heyward RC - 2011 Topps Football
# 300
Peyton Manning
- 2011 Topps Football
# 301 Derrick Mason - 2011 Topps Football
# 302 Joe Haden - 2011 Topps Football
# 303 Steve Johnson - 2011 Topps Football
# 304 Eddie Royal - 2011 Topps Football
# 305 Brent Grimes - 2011 Topps Football
# 306 Kevin Walter - 2011 Topps Football
# 307 Cortland Finnegan - 2011 Topps Football
# 308 Chris Cooley - 2011 Topps Football
# 309 Danario Alexander - 2011 Topps Football
# 310 Ndamukong Suh - 2011 Topps Football
# 311 Ras-I Dowling RC - 2011 Topps Football
# 312 Jacoby Ford - 2011 Topps Football
# 313 Taiwan Jones RC - 2011 Topps Football
# 314 Mike Williams USC - 2011 Topps Football
# 315 Sidney Rice - 2011 Topps Football
# 316 C.J. Spiller - 2011 Topps Football
# 317 Kansas City Chiefs Team - 2011 Topps Football
# 318 Matt Cassel - 2011 Topps Football
# 319 Chad Ochocinco - 2011 Topps Football
# 320 Santonio Holmes - 2011 Topps Football
# 321 Greg Little RC - 2011 Topps Football
# 322 Tony Gonzalez RB - 2011 Topps Football
# 323 Shaun Phillips - 2011 Topps Football
# 324 Lance Moore - 2011 Topps Football
# 325 Jordan Todman RC - 2011 Topps Football
# 326 Allen Bradford RC - 2011 Topps Football
# 327 Cleveland Browns Team - 2011 Topps Football
# 328 Jerome Simpson - 2011 Topps Football
# 329 Nick Mangold - 2011 Topps Football
# 330 A Arian Foster (White Jersey) - 2011 Topps Football
# 330 B Arian Foster SP (Blue Jersey) - 2011 Topps Football
# 331 J.J. Watt RC - 2011 Topps Football
# 332 Mike Sims-Walker - 2011 Topps Football
# 333 Johnny Knox - 2011 Topps Football
# 334 Patrick Willis - 2011 Topps Football
# 335 Carlos Dunlap - 2011 Topps Football
# 336 Marshawn Lynch - 2011 Topps Football
# 337 Anthony Castonzo RC - 2011 Topps Football
# 338 Kyle Orton - 2011 Topps Football
# 339 Cedric Benson - 2011 Topps Football
# 340 Hakeem Nicks - 2011 Topps Football
# 341 Braylon Edwards - 2011 Topps Football
# 342 Jimmy Smith RC - 2011 Topps Football
# 343 London Fletcher - 2011 Topps Football
# 344 Jeremy Shockey - 2011 Topps Football
# 345 Jonathan Vilma - 2011 Topps Football
# 346 New England Patriots Team - 2011 Topps Football
# 347 Brandon Jacobs - 2011 Topps Football
# 348 Allen Bailey RC - 2011 Topps Football
# 349 Cameron Jordan RC - 2011 Topps Football
# 350 A Julio Jones RC (Football at Chest) - 2011 Topps Football
# 350 B Julio Jones SP (Football over Head) - 2011 Topps Football
# 351 Greg McElroy RC - 2011 Topps Football
# 352 Pierre Garcon - 2011 Topps Football
# 353 Nate Burleson - 2011 Topps Football
# 354 Dallas Clark - 2011 Topps Football
# 355 Evan Royster RC - 2011 Topps Football
# 356 Justin Tuck - 2011 Topps Football
# 357 Martez Wilson RC - 2011 Topps Football
# 358 Robert Meachem - 2011 Topps Football
# 359 Andre Gurode - 2011 Topps Football
# 360 Tony Romo - 2011 Topps Football
# 361 James Laurinaitis - 2011 Topps Football
# 362 Adrian Clayborn RC - 2011 Topps Football
# 363 Donte Whitner - 2011 Topps Football
# 364 Jason Snelling - 2011 Topps Football
# 365 Kealoha Pilares RC - 2011 Topps Football
# 366 Daniel Thomas RC - 2011 Topps Football
# 367 Jabaal Sheard RC - 2011 Topps Football
# 368 Indianapolis Colts Team - 2011 Topps Football
# 369 Casey Matthews RC - 2011 Topps Football
# 370 LeSean McCoy - 2011 Topps Football
# 371 Shonn Greene - 2011 Topps Football
# 372 Louis Murphy - 2011 Topps Football
# 373 Greg Salas RC - 2011 Topps Football
# 374 Kellen Winslow - 2011 Topps Football
# 375 Arizona Cardinals Team - 2011 Topps Football
# 376 Jared Allen - 2011 Topps Football
# 377 Brian Orakpo - 2011 Topps Football
# 378 Virgil Green RC - 2011 Topps Football
# 379 Matt Forte - 2011 Topps Football
# 380 Jamaal Charles - 2011 Topps Football
# 381 Heath Miller - 2011 Topps Football
# 382 Jamie Harper RC - 2011 Topps Football
# 383 Mike Williams - 2011 Topps Football
# 384 Chad Greenway - 2011 Topps Football
# 385 Cecil Shorts RC - 2011 Topps Football
# 386 Dwayne Harris RC - 2011 Topps Football
# 387 Charles Woodson - 2011 Topps Football
# 388 Washington Redskins Team - 2011 Topps Football
# 389 Rob Gronkowski - 2011 Topps Football
# 390 Reggie Wayne - 2011 Topps Football
# 391 John Carlson - 2011 Topps Football
# 392 Clay Matthews - 2011 Topps Football
# 393 Jason Babin - 2011 Topps Football
# 394 Jeremy Maclin - 2011 Topps Football
# 395 Ryan Williams RC - 2011 Topps Football
# 396 Austin Pettis RC - 2011 Topps Football
# 397 Da'Quan Bowers RC - 2011 Topps Football
# 398 Joe Webb - 2011 Topps Football
# 399 Johnny White RC - 2011 Topps Football
# 400 A
Tom Brady
(Red Jersey) - 2011 Topps Football
# 400 B
Tom Brady
SP (Blue Jersey) - 2011 Topps Football
# 401 Jacksonville Jaguars Team - 2011 Topps Football
# 402 A Shane Vereen RC (Running Pose) - 2011 Topps Football
# 402 B Shane Vereen SP (Leaping Pose) - 2011 Topps Football
# 403 Jordy Nelson - 2011 Topps Football
# 404 Bruce Carter RC - 2011 Topps Football
# 405 Marques Colston - 2011 Topps Football
# 406 Jabar Gaffney - 2011 Topps Football
# 407 New York Giants Team - 2011 Topps Football
# 408 Ed Reed - 2011 Topps Football
# 409 D.J. Williams RC - 2011 Topps Football
# 410
Adrian Peterson
- 2011 Topps Football
# 411 Willis McGahee - 2011 Topps Football
# 412 Ronald Johnson RC - 2011 Topps Football
# 413 Colin Kaepernick RC - 2011 Topps Football
# 414 Steven Jackson - 2011 Topps Football
# 415 DeMarcus Ware - 2011 Topps Football
# 416 Darnell Dockett - 2011 Topps Football
# 417 Tony Gonzalez - 2011 Topps Football
# 418 Aldrick Robinson RC - 2011 Topps Football
# 419 Darrelle Revis - 2011 Topps Football
# 420 Matt Ryan - 2011 Topps Football
# 421 Lance Kendricks RC - 2011 Topps Football
# 422 Ryan Mathews - 2011 Topps Football
# 423 Richard Seymour - 2011 Topps Football
# 424 Mikel Leshoure RC - 2011 Topps Football
# 425 Jordan Cameron RC - 2011 Topps Football
# 426 A Mark Ingram RC (Ball in Left Hand) - 2011 Topps Football
# 426 B Mark Ingram SP (Ball in Right Hand) - 2011 Topps Football
# 427 A Von Miller RC (Catching the Ball) - 2011 Topps Football
# 427 B Von Miller SP (No Football in Photo) - 2011 Topps Football
# 428 Owen Daniels - 2011 Topps Football
# 429 Christian Ballard RC - 2011 Topps Football
# 430 Jake Locker RC - 2011 Topps Football
# 431 Vincent Jackson - 2011 Topps Football
# 432 Stevan Ridley RC - 2011 Topps Football
# 433 Jimmy Clausen - 2011 Topps Football
# 434 Rahim Moore RC - 2011 Topps Football
# 435 Matt Hasselbeck - 2011 Topps Football
# 436 Mike Wallace - 2011 Topps Football
# 437 Stephen Paea RC - 2011 Topps Football
# 438 A Ryan Mallett RC (Scrambling Pose) - 2011 Topps Football
# 438 B Ryan Mallett SP (Passing Pose) - 2011 Topps Football
# 439 Detroit Lions Team - 2011 Topps Football
# 440 Michael Vick - 2011 Topps Football